I've really been enjoying the What I Ate Wednesday action of recently so I thought it would be fun to get involved, unfortunately this is a bit overdue, but better late than never!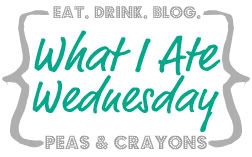 Yesterday was a bit of a crazy day for me as we had a big evening event on at work so eats where all on the go!
I did get up nice and early to fit in my Wednesday run. I had a mug of warm water and lemon juice then set off (as long as I'm well fuelled from the day before and I'm not doing a really long run I usually don't eat before early morning exercise as I can't stomach it) I decided to do some hills so I did 3 'laps' of my hilly route which includes one little but steep hill and one longer but more gradual hill. I did 7 miles in 1.03 with an average pace of 9.06. I was really happy with that pace as it was an improvement since the last time I ran that exact route 2 weeks ago!
For breakfast I really wanted a 'proper' green smoothie, i.e. one that is actually green! I blended lots of kale, a frozen banana, two small peaches, ice, a scoop of vanilla sun warrior, maca, mesquite, spirulina, xanthan and guar gums with water and a few drops of vanilla stevia sweetener. I then topped it with the last of my home mixed muesli and a huge blob of smooth peanut butter:
Perfect! I also had a big mug of Yerba Mate tea plus my vits – a vegan multi, Viridian Digestive Enzymes and a probiotic.
As I knew I'd be working a long day I spent some time on Tuesday night preparing meals and snacks to get me through. I made up a socca wrap with chopped basil and filled it with some vegan pesto, mashed cannellini beans and mixed leaf salad leftover from my dinner. I also had a big bowl of strawberries:
The socca wrap was fantastic! I'd last made a socca wrap like this for when we were travelling to Heathrow on our way to NYC, stuffed with kabocha squash of course! They keep very well wrapped in foil like this. I always finish off my lunch with a mug of some spicy or sweet tea, today I had liquorice.
Mid afternoon I snacked on some Tamari and Black Sesame Rice cakes spread with some tahini and chopped carrot and sugar snaps:
Before the event I had a yummy salad:
This included romaine, watercress, spinach, rocket, beetroot, carrot, red onion, sugar snaps, cucumber, mixed beans and some balsamic dijon dressing I'd made with blueberry balsamic, extra virgin olive oil and dijon mustard, so so good! I also had a pecan pie nakd bar.
During the day I drank my usual huge amounts of water, green and rooibos teas. I wanted to make sure I ate before the event as all that was being served was pie and peas, not exactly Laura friendly food! Please bear in mind that this is far from a typical days food for me as usually when I'm home I would eat a lot more snacks!
I did really love that wrap, I can see them making more of an appearance for work lunches! What's your favourite wrap filling? I still love my nut butter and apple breakfast wraps too!
Hope your having a great week!