Hello everyone and happy Wednesday, half way through the week already can't be bad! Today of course is another WIAW edition – a day of my eats and a bit of general chit chat. If this is your kind of thing check out the link below for lots of other bloggers posting their daily eats. I know that there is a monthly theme, but to be honest haven't really considered them before so I've decided I'm just going old school from now on ;-)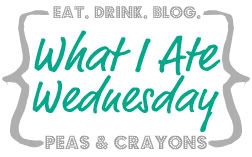 This is how I spent my day on Monday, which was a wonderful day indeed! I'd booked the day off work just so I could have time to get caught up with a few things and focus on some of my business development stuff. I started the day with the usual warm water and lemon juice followed by a glass of water with raw apple cider vinegar and then hit the gym:
I did workout 1 with a 5 minute cross trainer warm up and followed with 10 minutes of HIIT on the bike. I decided that since I was out I'd might as well swing by the supermarket for a few groceries:
Tofu, frozen berries, crushed ice, milk and seafood as a treat for James
Potatoes, spinach, flat mushrooms, raspberries, strawberries, broccoli, carrots, romaine, bananas, courgettes, organic apples and berry nakd bars as a treat for me!
I'd made a pot of coffee before leaving for the gym so just poured it straight over some ice with vanilla stevia and almond milk to slam while I had a quick shower:
Then it was time for breakfast! I made a fabulous omelette with 2 farm eggs and filled it with peanut butter and naturally sweetened strawberry jam:
I also made a huge smoothie with mixed frozen berries, a scoop of vanilla sun warrior protein powder, some maca, omega oil, water and ice. It made about 3 big cups worth, so delicious!
I decided that since I really need to be able to focus at home now and in the future I'd set myself up a desk space rather than just sitting on the sofa with the computer on my knee. I pushed our little dining table (which is actually a cheap table and fold away chairs meant for outdoor use) against the window and made myself a mini office:
I really love it! It helps me go in to 'work mode' much more easily when I have a dedicated space. It also means I have a nice little spot for my tea pot, I brewed up several pots of ginger green tea throughout the day.
The morning was spent mind mapping like a pro and then I took a break for lunch:
I had a big salad with romaine lettuce, cucumber, red pepper, red onion, black beans and avocado. After that I got back to it until I started feeling a bit hungry again and went and made another mega smoothie:
One of the best things about being home has to be having access to the Vita mix! I blended some spinach, red oak lettuce, frozen cherries, a cooked beetroot, scoop of chocolate sun warrior protein powder, some cococardio, water, ice and a little stevia to make an epic chocolate cherry beet green smoothie. That made a full blenders worth and I enjoyed it all :-)
After that I had the best Skype date with a new friend Nathalie from my IIN course. I hope she doesn't mind me gushing here, but she is wonderful! We've been having a weekly Skype date for a little while now and we never cease to inspire and motivate one another!
Dinner was a mega quick and easy combo of a pre baked sweet potato just warmed back up in the oven with some perfect tofu I'd cooked at the weekend and some steamed broccoli:
For dessert I had some Amaretto Stone Fruit Crumble with coconut cream:
The recipe is coming up tomorrow but all I will say is that this is just incredible! Its vegan, gluten free and free from refined sugar. Best thing I've made in a long time, I had to stop myself going back for seconds!
I finished the day with a big mug of Sweet Coconut Thai Chai Tea:
Great end to a fab day!
I went to bed feeling motivated and happy – I guess doing work that you love and enjoy is the key to making 'work' not feel like work. I could have happily kept on going all day long :-)
I tend to enjoy work where I can be creative, where I am challenged and that is different from day to day. I love knowing that I'm putting something of myself out there and making a difference in the world and to other people. I guess that's why I enjoy blogging so much, it never feels like a chore!
What kind of work makes you feel fulfilled?