About
I'm Laura, I'm 30 years old and I live in a little flat with my husband James in Durham, North East England.

I started this blog in 2010 after losing a lot of weight, with the hope of keeping myself motivated and sharing my love of fashion. What started as more of a food diary has grown to become a blog about all of my passions:
healthy delicious food, fitness, fashion, beauty and style
. Originally called Keeping Slim and Getting Stylish, I changed the slim to healthy in line with my developing philosophies on healthy living! You can find my
weight loss tips here
.
I had a complicated relationship with food from a very young age. I can remember starting my first diet at the age of 7. I was always generally a little overweight and yo yo dieted throughout my teens. By the time I reached my twenties I was more seriously overweight, and yet again I dieted, lost weight and then regained it, plus some more, over and over again. On the outside I was generally a happy young woman, but on the inside I had zero confidence and self esteem and hated the way I looked and felt.
It wasn't until I was 26 and saw a photograph of myself at a friends party that I realised something had to change for good.
I re joined the gym, started eating less, and then gradually eating more whole foods and the weight started to come off. I was focused enough to keep at it, and as the pounds fell off the more motivated I became. I dabbled in a higher protein / lower carb diet which helped me blast through a weight loss plateaux and by the end of 2009 I had lost almost 4 stone in a year.
The following year I was looking for some more motivation following the Christmas period and I stumbled upon fashion and healthy living blogs. I decided to start my own as an online visual food and exercise diary as well as somewhere I could talk about my love of fashion. Before I knew it the blog's readership grew and grew and Keeping Healthy Getting Stylish became one of the Top 10 Health Blogs in the UK.
At this time I was learning more about food and nutrition and became interested in vegetarianism, veganism and raw food. I ran my first half marathon – The Great North Run, which was a big life goal of mine and I felt great. As I exercised more and more, and ate super healthily the weight continued to come off and I got down to a total weight loss of almost 6 stone. It was at this point I had to take a long hard look at myself. I was very slim, but I was not completely healthy and my interest in healthy living had become a little too obsessive. I had also started binge eating to make up for the lack of foods I'd eat during the day, and my vegan diet was no longer making me feel at my best. I made the difficult decision to gain weight, change my diet back to eating whatever I fancied in moderation and reduced my exercise.
My food and exercise now…
At the moment my diet is made up of mostly whole foods including veggies, fruit, meat, fish and full fat dairy, including foods like butter and bacon! I've learned that my body does best on more fat (including saturated fat) and protein and slightly less carbohydrates from foods like bread and pasta. I still love raw foods, especially desserts, and enjoy treats of chocolate and pastries when I feel like it. I've realised that life is too short not to enjoy certain foods, but I know that when I eat too much processed or sweet foods I feel the ill effects, and that is what helps me come back to eating in a way that is truly nourishing for my body.
My current approach to fitness has vastly changed as I focus on taking care of my body rather than punishing it. I strength train 3 times a week and do yoga between. I also try and stay generally active when I can by walking etc. I've found that this is a great balance for me right now.
My healthy living philosophy is centred around something called bio individuality – basically different things work for different people. I've tried what seems like every diet under the sun and I'm still experimenting to find out what works best for me. The bottom line is that I don't want to ever label my diet as anything again – I eat what makes me feel good, simple as that!
I recently completed a course in Diet and Nutrition Advice and I'm now working towards my Holistic Health Coach certification with The Institute of Integrative Nutrition and I'm also registered with the Federation of Holistic Therapists. In 2012 I set up Uniquely Healthy where I offer my health coaching services – please check it out!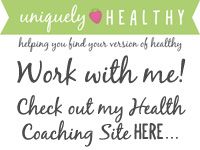 I'm on a journey to learn more about myself and my body, I always try and stay true to myself and sometimes I make mistakes but that's what life is all about!
These posts help to tell my story…
Please feel free to email me at laura@keepinghealthygettingstylish.com with any questions or queries, thanks for stopping by!
FAQs What's the deal with the Green Smoothies? See my Green Smoothie Loving post and my Ultimate Green Smoothie Recipe posts for more info.
What blender and juicer do you use? I did use this Kenwood K Mix Blender however after many years of use it died on me and I decided to invest in a Vitamix Total Nutrition Centre and its awesome! I also use this Philips Juicer they are both fantastic and I would highly recommend them!
I've never heard of a lot of your ingredients, where can I find out more about them? I did a couple of unusual ingredients and where to find them posts which should help:
My Lots of Questions post also has a lot of FAQ's on there including information on my Diet and Nutrition Advisors course I'll be adding to this section as time goes on so please email me if you have any other questions!